Festival season is upon with lace crop tops, high waisted denim, flower crowns and boho outfits about to dominate every fashion news feed. This year one of the world's most major music festivals Coachella takes place from April 14-16 and April 21-23. The desert concert series is famous for bringing out top models and celebrities geared up in their best attire, and has become a major public fashion event. To celebrate the oncoming concert series, here are pictures of some of our favorite Coachella cuties!
Vanessa Hudgens
Dubbed the "Queen of Coachella" Vanessa Hudgens brings fierce boho vibes every year to the festival, often ending up on multiple best-dressed lists. "I'm most excited about the festival look,"  Vanessa said during an interview discussing her famous concert fashion, "just because I love festivals so much. They're my safe haven. It's just the one time that it's socially acceptable to dress like a crazy person. "
Alessandra Ambrosio
The supermodel has attended Coachella for the past 4 years and has yet to disappoint. Alessandra often brings a very special accessory to Coachella: her daughter Anja! The two were often seen sporting the cutest boho outfits, looking like a super adorable music festival duo!
Kate Bosworth
Actress Kate Bosworth is no secret to celebrity best dressed lists, and Coachella is no exception. The actress and style tends to go for a more feminine festival look with a statement piece flare.
Kendall Jenner
Kendall Jenner has often opted for a more grunge style Coachella outfit; rocking the color black, a band T-shirt, or some 60's rocker sunglasses.The model is also known for attending with besties Hailey Baldwin, Gigi Hadid, and sister Kylie Jenner.
Julianne Hough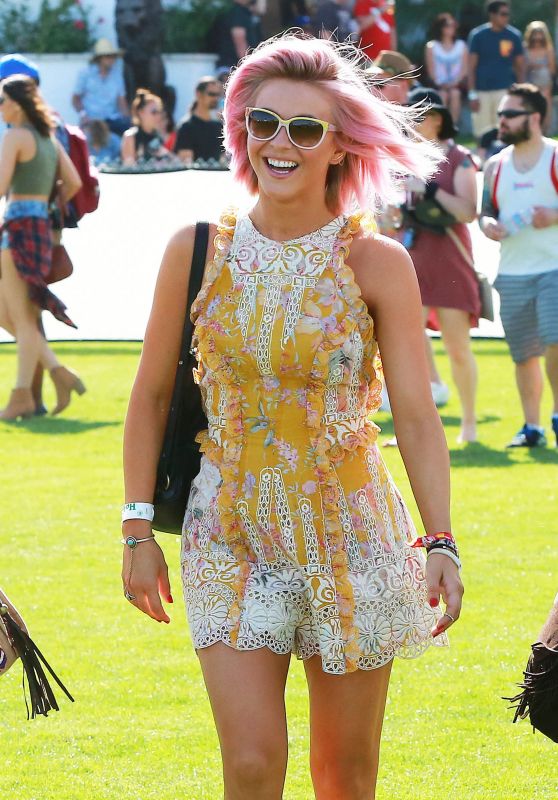 The Dancing With The Stars cutie loves attending the annual music festival, and last year debuted her Coachella fashion with pink hair!
Coachella is just a few weeks away, and we can't wait to see what style will be brought out this year! To view more pictures of celeb style visit Bellazon, and don't forget to check model and celebrity threads to see what your favs are wearing to this years festivities!