It's that magical time of year again, and no, we aren't talking about Christmas. The Victoria's Secret fashion show is upon us and all the glitz, glam and angels descended upon the runway on Monday, November 20th. The show will air on CBS on Tuesday, November 28th and will take place in Shanghai China. Here is a full recap of the 2017 Victoria's Secret Fashion Show.
The Segments
The show featured 6 segments: Nomadic Adventure, Porcelain Angel, A Winters Tale, Millennial Nation (PINK), Goddesses, and Punk Angels (BALMAIN). The Swarovski crystal bodysuit made an appearance in the "Nomad" section on model Elsa Hosk. Angel Candice Swanepoel also made her post baby comeback during the same "Nomad" segment as Hosk, wowing the audiences with her incredible body and killer confidence!
Victoria's Secret x BALMAIN
All eyes were on the Punk Angels segment for displaying the new lingerie looks from the Victoria's Secret x BALMAIN collection. The 2017 show marks the first collaboration between Victoria's Secret and Oliver Rousteing's BALMAIN, with the collab launching in stores November 29th, the day after the fashion show airs on CBS. BALMAIN is no stranger to Victoria's Secret though, with the angels modeling regularly for the edgy brand and designer Oliver Rousteing attending past years fashion shows to interact and interview with the angels.
The Performers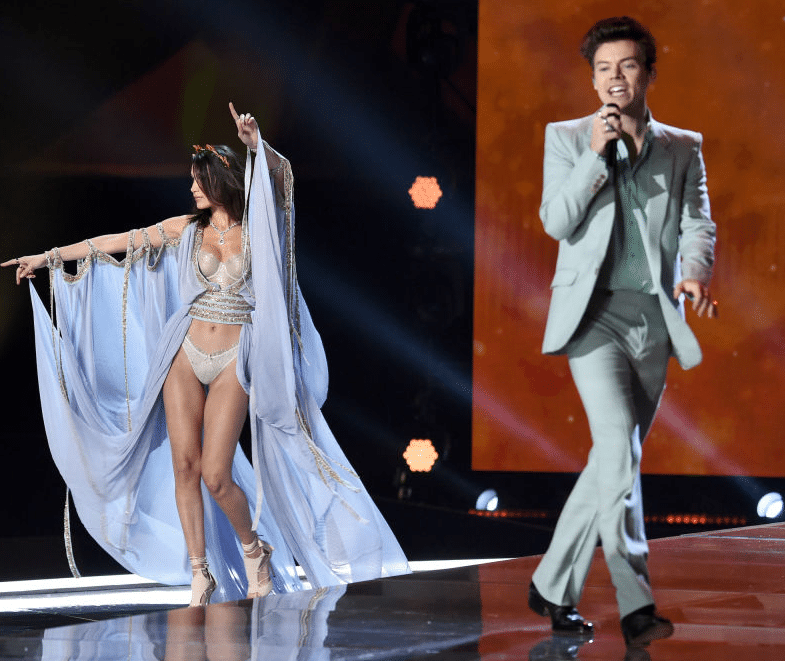 Performers also descended up on the Victoria's Secret Fashion Show runway, with Miguel, Harry Styles, Leslie Odam Jr. and Chinese superstar Jane Zhang. It's a first for all the performers in the fashion show, and they didn't disappoint. Harry Styles performed "Kiwi" and "Only Angel" from his debut album serenading angels down the runway. Katy Perry was originally scheduled to perform but had to cancel due to travel Visa issues.
Visit Bellazon for more pictures, videos and updates from the 2017 Victoria's Secret Fashion Show!
Victoria's Secret Fashion Show (2017)