"He is rockabilly. Mean, surly, nasty... In that movie, he couldn't give a fuck about nothin'... except rockin' and rollin', livin' fast, dyin' young, and leavin' a good lookin' corpse. I watch that hillbilly and I want to be him SO bad...

Elvis looked good. I ain't no fag, but Elvis was prettier than most women. Most women. You know, I always said... If I had to fuck a guy... I mean had to... If my life depended on it...

...I'd fuck Elvis."
Clarence Worley - True Romance
ELVIS!
Elvis Aron Presley
"THE KING"
(Jan 8th 1935 - Aug 16th 1977)
Forget what you know about Elvis... And FORSHAME there isn't already a thread here on The King. Elvis Presley was born in Tupelo, Mississippi, into a family living just above the poverty line; and became (arguably) the greatest entertainer of all time. He is iconic. His face, his music, recognizable across the world. His legacy lives on - indeed popular music as we now know it can be traced entirely back to him. He broke boundaries: He helped create the concept of the "teenager". And, of course, he was responsible for "Rock And Roll". There have been many pretenders to his throne - but Elvis
IS
THE KING
.
"Before Elvis, there was nothing."
John Lennon
Yes, forget what you know. Forget that later Elvis. Forget the Las Vegas, Cheeseburger, Fat, Drug-Addled man that he became. Bad management and sheer ignorance of 'Celebrity' and 'Stardom' (which hadn't existed to this degree before) led to that. When he died, alone, and ignominously, in his Graceland bathroom - Elvis was the most famous man in the Western World...
This is not a comedy thread - dealing with that bloated, sweaty, shadow of a man going through the motions on stage - this is a thread for seeing the REAL Elvis...
That man was BEAUTIFUL:
Elvis
SHOOK
the world. He shook it all up. And all these preening plastic pop-stars OWE him. Don't dismiss the King. If it wasn't for him, chances are your own favourite
heart-throb
wouldn't exist...
He had it all. Sure, he wasted it, and his end was a sad indictment of that 'Superstar' lifestyle: One that so many other stars would follow in his untimely wake.
But up there, on that stage in the 50's and 60's, he ROCKED:
So, give the man another chance. And see him in his glorious prime:
THIS IS ELVIS!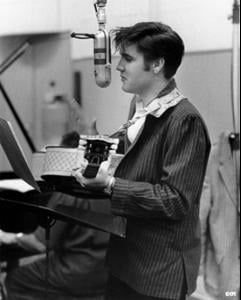 ELVIS has entered the building...