A model form Why Not:
height:1,73m /5'8
waist: 60cm /25''
hips: 85cm/35''
hair: blonde
eyes: blue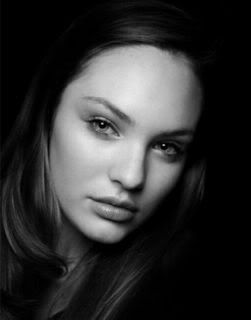 Article:
It's a story that fairytales are made of. Picture a small, quiet farming village in the Midlands of KwaZulu- Natal. Add to this, a beautiful young girl and her dream of becoming a supermodel. Candice Swanepoel grew up in Mooi River and her mother Eileen says that even as a little girl Candice dreamt of being the Queen of the Catwalk.
Eileen Swanepoel (Candice's Mother): "Living down here in South Africa, not even in Mooi River, I never ever thought that her dream would become a reality".
In July last year when Candice was just 15 years old, her wish came true. An unexpected, modern-day fairy godmother in the form of model scout Kevin Ellis spotted Candice at a Durban flea market.
Kevin Ellise (Model Scout): 'It was like… honestly, like a beautiful flamingo walking past my shop. the way she walked past just did it for me".
Devi Sankaree Govender (Carte Blanche presenter): The new faces of international fashion are no longer being found just on the streets of Europe or America. In recent years model scouts have been casting their eyes further afield to Africa - and more specifically, South Africa.
South African supermodel Georgina Grenville was discovered at a Durban shopping centre and went on to become the face of Gucci. Charlize Theron, Tanya Fourie and Esta Terblanche all won modelling contests in their teens, and went on to successful international careers.
But none of them were catapulted onto the catwalks of the world as fast as Candice.
Candice Swanepoel: 'It's all, like… I can't really explain. It's all hit me so fast I didn't really have time to think about it'.
Kevin set up an appointment for Candice and Eileen to meet with a local model agency. Model boss Tiffany Prior says she was instantly enchanted.
Tiffany Prior (Ice Models): 'She walked up the stairs, this elegant young teenager, 15 year[s] old and we all just… I mean our jaws dropped".
According to Tiffany, the world's top designers dictate trends when it comes to deciding the latest international look and what type of face will best sell the next Gucci or Galliano campaign.
Tiffany: 'The trend now is that fresh faced, beautiful, doe-y-eyed, gorgeous featured kind of girl. Very willowy, long limbed... and that's Candice!'
Tiffany snapped a handful of Polaroids of Candice then and there.
Tiffany: "This is just Polaroids taken on the steps of the agency without a stitch of make up on. I know, it's insane".
Candice didn't even have any make up on. She sent these amateur pictures to Kirsty Reilly in Cape Town who books models internationally. She in turn sent Candice's pictures to Select, a top London agency, [who] represents the likes of Sienna Miller and Helena Christiansen.
The response was immediate. Within 25 minutes of receiving the Polaroids, Select called back.
Kirsty Reilly (International Booker): "I wasn't surprised, but I was shocked when they said 'We want her here, now!' "
Candice was even more surprised.
Candice: "I hadn't been to London before. I hadn't actually been overseas before. So I was like 'Yay!' "
In the two weeks that followed, Candice faced over 40 castings in London and New York. And less than a year after Kevin first spotted her, she was sharing a catwalk with the likes of Alek Wek at the Dolce and Gabbana show and being used in photo campaigns for Italian Vogue, Fornarina and Top Shop.
Candice currently commands no less than 5 000 Euros or R40 000 for a day's work.
Devi: "But she's still a 16-year-old girl, which means that even though she earns more than the CEO of a top company, she cant' sign her own cheques and, while she may have been to New York, London and Milan, she's not old enough to drive a car".
Candice is one of a crop of South African teenage models climbing their way up in the world fashion stakes.
Dion Chang (Fashion writer and critic): "You've got to be the next best thing to sliced bread and you've got to be a fresh loaf of bread as well".
Dion Chang is a fashion writer and critic. According to him, the age of entry-level models dropped dramatically when the concept of the supermodel first stepped out onto the ramp.
Dion: We had extremely young girls, early nineties, and I think we've kind of balanced it out. But I still think the starting age for models is still sort of mid-teens, which I think is still quite young for girls to go out into the big bad world of fashion".
Devi: "The stars of the fashion industry are often still in their formative years, sometimes younger than Candice, at 13 and 14".
These girls build their careers on how they look and not on who they are. It's easy to understand how -without protection and guidance - fragile self-image and self-doubt could lead to the abuse of alcohol and drugs.
British supermodel Kate Moss was only 14 years old when she was discovered and has publicly admitted that her life spiralled out of control when she joined the international modelling circuit.
Both Tiffany and Kirsty admit that there is a dark flip side to the glamorous world of modelling.
Devi: "Financial abuse? Drug abuse? How do you control that?"
Kirsty: "Five or six years ago a lot of the modelling agencies were exposed for drugs and whatever and I know there was a lot of bad press. And I think in a way that was a positive thing, because it was a real turning point".
Kirsty is referring to a 1999 BBC documentary. The TV investigation showed how two senior executives at Elite Model Agency - one of them former husband of supermodel Linda Evangelista - planned to seduce under-age models. Drugs were also being sold to the girls with the full knowledge of the agency.
Kirsty: "The girls and boys are always chaperoned now. Candice is never left on her own. She's a young girl, you know, and if she's let loose at a young age with too much money, then it could be a nightmare".
But Candice's mother Eileen says she trusts the agency to protect her daughter.
Devi: "The concern about drugs and alcohol? Did that worry you at all?"
Eileen: "Candice has had no experience of that whatsoever. The agencies don't allow the under-age girls to go to any parties".
Tiffany says that while her young model's safety is her first priority, it's also simply a matter of business.
Tiffany: "If you want to look after your asset - and your models are your asset - you cannot have them arriving on shoots day after day, hung over, dark rings, bad reputations, behaving badly - you can't have that. Because when that person moves on, it's your agency that's left behind with the reputation to deal with".
Devi (to Candices's mother): "Do you have a financial plan for her?"
Eileen: "Those amounts of money - just in an account to spend - is quite a scary amount when you're Sixteen. The sky could be the limit. So we are definitely going to control that and wisely invest in things that can work for her later, in later years".
Devi (to Candice): "What's the most expensive thing you've bought with the money?"
Candice: "Well I've ordered my new cell phone, an iPod. But basically I like to spend it on nice shoes and clothes and make-up".
To her friends, Candice might seem like the luckiest girl in the world, but her success hasn't come without sacrifice. Her whirlwind schedule has meant she's had to give up school.
Eileen: "I thought that she would be able to do both, but we soon realised that that wasn't going to be possible. And she said to me: 'I think I've got to give this a bash and just see how far I can go in the international modelling world'.'
Although Tiffany doesn't encourage dropping out of school to pursue a career in modelling, Candice was the exception to the rule.
Tiffany: "It was a career move. It was a career decision and I think in her case it is a wise one".
But leaving school meant leaving friends.
Candice: "I packed my school uniform a few days ago, so ja, it's very strange".
Spending months away from home is also not easy for a young girl.
Candice: "I miss my family probably the most".
But Kirsty is adamant that what Candice is giving up is small in comparison to what awaits her in the international modelling arena.
Kirsty: "What happened with Candice is a once in a lifetime thing. This doesn't happen every day. Most girls work hard for years before they get their break. Kate Moss got scouted and that was it – bang! She was on the cover of every Vogue, doing every show, doing Calvin Klein, doing everything. And that's how Candice's career is going. Candice is South Africa's answer to Kate Moss".