Mónica Particia Farro Dávila (born February 28, 1976 in Montevideo) is a Uruguayan supervedette, model and actress of theatre and television who started her career as a child commercial model and then as an erotic actress and fetish model for Playboy TV, who was chosen as Miss Uruguay for Playboy's 2004, Miss Playboy. Farro is also known for her work and is many times compared with fellow supervedettes, Adabel Guerrero and Valeria Archimó.
Farro's launch to fame was on 2007 after being discovered by the Argentine theater producer, Gerardo Sofovich in the Uruguayan capital, Montevideo. He then signed Farro to his theater company for two years in which she performed in one of his comedies, "No somos santas", one of his musical comedies "Le Referi Cornud", and in 2008 she was cast by Sofovich to co-star the magazine, "La Fiesta Está En El Lago" alongside dancer Valeria Archimó and actress-dancer Adabel Guerrero, all three writing, produced and directed by Sofovich and also directed by René Bertrand.
Later on in 2009 Farro was signed into Carmen Barbieri's theater company and protagonist two of her magazines, "Fantástica" in the 2009-10 theatrical season and "Bravísima" in the 2010-11 season, both as the First Vedette. Mónica then decided not sign for another year in the company because she wasn't pleased with some of her cast members, especially Uruguayan actress-dancer and fashion model, Andrea Ghidone and Greek-Argentine amateur glamour model and media-showbiz personality, Victoria Xipolitakis. Barbieri has commented that she will have her back for the 2013-14 summer season at all cost. After four years of doing classical revue musicals, Farro was called in 2011 to lead and debut as a supervedette and as her own producer in an alternative revue show mixed with musical comedy with Negro Álvarez touring all Argentina and parts of Uruguay.
On November 2, 2012 the actress made an appearance for the river border state of Argentina to Uruguay. Entre Rios Province in the Astros theater where she and many other theater artist presented Entre Ríos' summer theatrical season debut for 2012 and 2013 with three shows, one in which she will star as the lead actress in a theater comedy, "La noche de las pistolas frías". In November Farro led a mini theater magazine show, "Empetroladas" alongside dancing partner, Cristian Ponce in Cutral Có, Neuquén On January 4, 2013 "La noche de las pistolas frías" debuted in El Gran Teatro Colón, in Entre Ríos with Farro alongside Emilio Disi, Martín "Campi" Campilongo, Claudia Giardone, Florencia "Flopy" Tesouro, Manuel Navarrete, Cristina Alberó and Luly Drozdek.
Farro was married to Urugayan footballer, Enrique Ferraro with whom she had a child named Diego Ferraro Farro in Uruguay.
Farro later on commented on a gossip in 2009 named, "Puroshow" that she was possible pregnant to her one year boyfriend from Ideas del Sur (pregnancy later proved false), were she commented that her first pregnancy with her past couple Enrique Ferraro was thanks to medical assistance and that six months after his birth she once again got pregnant, but sadly had to remove it do to a tumor in one of her ovarys.
She was also in a relationship and got engaged with an Argentine Ideas del Sur television producer, Jorge "Negrito" Luengo who was violent to her.She ended that relationship in 2011 after being together for more than three years. The vedette would later on tell in mid-2012 how she would have to fight him and that she wanted to kill herself many times.
Mónica was in a relationship with a restaurateur and former playgirl model and actor from Argentina called, Alejandro "Alex" Larosse.As of November, 2012 they got engaged and were planning on having a child in 2013. Larosse was accused by the media to have cheated on Farro with a 29 year old Argentine model, Paola Cevey. Mónica has finished her relationship with Larosse on February 13, after 9 months of being together after Cevey clearly proved and confirmed the rumores.
Monica Farro (Argentinian vedette) in thong, showing her ass in a massage session: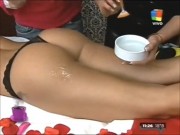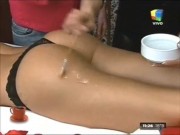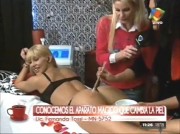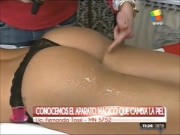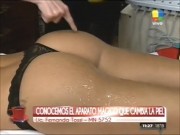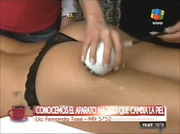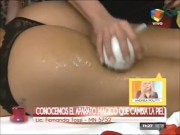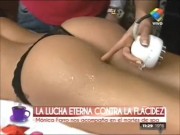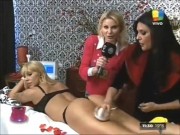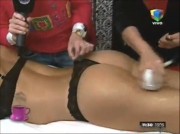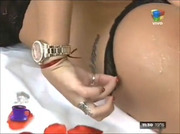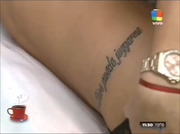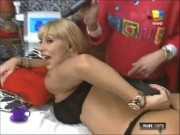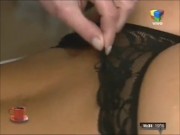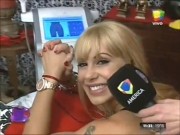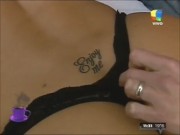 Download: (61,61 MB, 3 min 46 secs, 1280x720, MP4)

http://depositfiles....files/2rydt91sr

http://rapidgator.ne..._FA_02.mp4.html