http://www.nettyroya...ages/andrea.jpg
Please textlink or upload images onto a host instead of hotlinking. For more information click HERE. Thanks! ~post edited by PinkCouture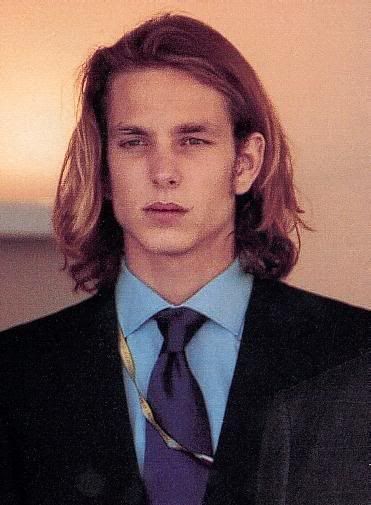 Andrea Albert Pierre Casiraghi (born 8 June 1984) is the first of three children born to Princess Caroline of Monaco, The Princess of Hanover and her second husband, the late Stefano Casiraghi, an heir to an Italian oil fortune. He is currently second in line to the throne after his mother, meaning that if the currently reigning Prince Albert II dies without legitimate children, then Casiraghi is likely to adopt the surname Grimaldi and someday be the Prince of Monaco. His maternal grandparents were Prince Rainier III of Monaco and Grace Kelly
Early life and family :
Born on 8 June 1984 at 22:40 at The Princess Grace Hospital Centre in Monte Carlo, Monaco, Casiraghi was named after a childhood friend of his father's. His godparents are his aunt Princess Stéphanie and his uncle Marco Casiraghi.
Andrea was six years old when his father died in a boating accident.
He has two younger siblings, Charlotte and Pierre, and a younger half-sister, Princess Alexandra of Hanover.
Education :
Growing up mostly in France, he studied for the International Baccalaureate exam at the International School of Paris; he took the exam in the summer of 2002. Besides French, he is fluent in several languages, including English and his father's native Italian. Following a period at Canada's McGill University, he eventually graduated in 2006 with a Bachelor of Arts degree in visual arts and international politics from the American University of Paris.
Known for his delicate blond good looks and athletic skills '€" he rides, skis, plays football and also guitar; he was included by People Magazine in 1999 in the Top 50 World's Most Beautiful People. In 2008 he was included as 10th on the list of the "20 Hottest Young Royals" as compiled by Forbes.
Since 2004, Casiraghi has had moderate exposure to his mother's work with 'lAssociation Mondiale des Amis de l'Enfance (A.M.A.D.E., or the World Association of Children's Friends). However, in August 2006, he paid a very serious visit to Manila on behalf of a joint venture of A.M.A.D.E. and the Virlanie Foundation. His girlfriend, Tatiana Santo Domingo, accompanied him on this visit. Santo Domingo has been dating Casiraghi since late 2004 or early 2005.
Since 2007, Casiraghi has been living and doing graduate studies in New York City, according to Prince Albert II. Also in that year, Casiraghi unveilled his patronage of the Motrice Foundation, which funds research into cerebral palsy.