Can't believe he's not up here. lol.
Date of Birth
7 January 1971, Modesto, California, USA
Birth Name
Jeremy Lee Renner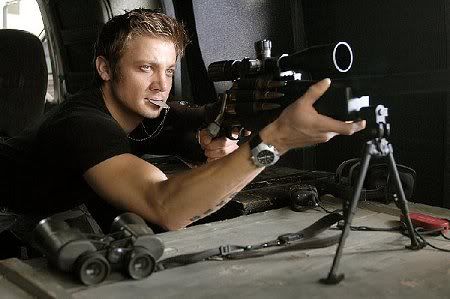 Height
5' 10" (1.78 m)
Trivia
Turned down a role in The Big Bounce (2004) to play Brian Gamble in S.W.A.T. (2003).
He knew David Boreanaz even before he guest-starred on "Angel" (1999). He and David used to have the same acting class in college.
Renner had three films screening at the 2005 Toronto International Film Festival: North Country (2005), A Little Trip to Heaven (2005), and Twelve and Holding (2005).
He received the Best Actor Award at the Palm Beach International Film Festival for his title role in Neo Ned (2005).
He received the Hollywood Life's "Break Through Performance of the Year" for his role as Brian Gamble in the movie S.W.A.T. (2003).
Was approached to play the role of Derek in "Hero Wanted" but couldn't due to prior filming commitments.
Filmography
Jump to filmography as: Actor, Soundtrack, Sound Department, Thanks, Self
Actor:
In Production
2000s
1990s
The Losers (2011) (pre-production)
"The Unusuals" .... Detective Jason Walsh (6 episodes, 2009)
- The Circle Line (2009) TV episode .... Detective Jason Walsh
- 42 (2009) TV episode .... Detective Jason Walsh
- Crime Slut (2009) TV episode .... Detective Jason Walsh
- One Man Band (2009) TV episode .... Detective Jason Walsh
- Boorland Day (2009) TV episode .... Detective Jason Walsh
(1 more)
Lightbulb (2009) .... Sam
"The Oaks" .... Dan (1 episode, 2008)
- Pilot (2008) TV episode .... Dan
The Hurt Locker (2008) .... Staff Sergeant William James
"House M.D." .... Jimmy Quidd (1 episode, 2007)
... aka "House" (South Africa: English title) (USA: short title)
- Games (2007) TV episode .... Jimmy Quidd
The Assassination of Jesse James by the Coward Robert Ford (2007) .... Wood Hite
... aka L'assassinat de Jesse James par le lâche Robert Ford (Canada: French title)
... aka The Assassination of Jesse James (USA: short title)
28 Weeks Later (2007) .... Doyle
... aka 28 semanas después (Spain)
Take (2007) .... Saul
Love Comes to the Executioner (2006) .... Chick Prigusivac
North Country (2005) .... Bobby Sharp
A Little Trip to Heaven (2005) .... Fred
Twelve and Holding (2005) .... Gus Maitland
Lords of Dogtown (2005) (uncredited) .... Jay Adams Manager
... aka American Knights (Philippines: English title)
... aka Dogtown Boys (Germany)
Neo Ned (2005) .... Ned
The Heart Is Deceitful Above All Things (2004) .... Emerson
... aka Le livre de Jérémie (France)
S.W.A.T. (2003) .... Brian Gamble
Dahmer (2002) .... Jeffrey Dahmer
Monkey Love (2002) .... Dil
"CSI: Crime Scene Investigation" .... Roger Jennings (1 episode, 2001)
... aka "CSI: Las Vegas" (South Africa: English title: informal alternative title) (USA: syndication title)
... aka "C.S.I." (USA: short title)
... aka "CSI: Weekends" (USA: promotional title)
... aka "Les experts" (Canada: French title)
- Alter Boys (2001) TV episode .... Roger Jennings
Fish in a Barrel (2001) .... Remy
"Angel" .... Penn (1 episode, 2000)
... aka "Angel: The Series" (USA: long title)
- Somnambulist (2000) TV episode .... Penn
"Time of Your Life" .... Taylor (1 episode, 1999)
- The Time the Truth Was Told (1999) TV episode .... Taylor
"The Net" .... Ted Nida (1 episode, 1999)
- Chem Lab (1999) TV episode .... Ted Nida
"Zoe, Duncan, Jack & Jane" .... Jack (1 episode, 1999)
... aka "Zoe" (Australia) (USA: new title)
... aka "Zoe..." (USA: promotional abbreviation)
- Pilot (1999) TV episode .... Jack
A Nightmare Come True (1997) (TV) .... Steven Zarn
... aka A Dream of Murder (USA)
A Friend's Betrayal (1996) (TV)
... aka Stolen Youth
"Strange Luck" .... Jojo Picard (1 episode, 1996)
- Blinded by the Son (1996) TV episode .... Jojo Picard
Paper Dragons (1996)
"Deadly Games" .... Tod (1 episode, 1995)
- Boss (1995) TV episode .... Tod
Senior Trip (1995) .... Mark 'Dags' D'agostino
... aka La folle excursion de National Lampoon (Canada: French title)
... aka National Lampoon's Senior Trip (USA: complete title)
... aka Senior School (UK)
Soundtrack:
The Assassination of Jesse James by the Coward Robert Ford (2007) (performer: "Good Ol' Rebel Soldier" (uncredited))
... aka L'assassinat de Jesse James par le lâche Robert Ford (Canada: French title)
... aka The Assassination of Jesse James (USA: short title)
North Country (2005) (performer: "I Drink Alone")
Sound Department:
Fish in a Barrel (2001) (foley artist)
Thanks:
Down in the Valley (2005) (special thanks)
Self:
Scream Awards 2007 (2007) (TV) .... Himself
28 Weeks Later: Getting Into the Action (2007) (V) .... Himself
Code Red: The Making of '28 Weeks Later' (2007) (V) .... Himself
28 Weeks Later: The Infected (2007) (V) .... Himself
28 Weeks Later: The Rage Is Back (2007) (V) .... Himself
Film Independent's 2007 Spirit Awards (2007) (TV) .... Himself
"The It Factor: Los Angeles" .... Himself (1 episode, 2003)
- Mali Finn Casts 9 New Actors (2003) TV episode .... Himself